Department of Neuroergonomics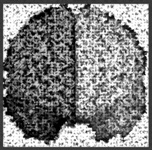 The Department of Neuroergonomics was established in 2005 within the Institute of Applied Psychology. The research team of the department has successfully finished two national grants, which implemented fMRI (functional Magnetic Resonance Imaging) technique and is currently carrying out another one that implements dense EEG (electroencefalography).
The goal of the research team is to decipher neuronal indices of cognitive processes such as visuospatial processing, error detection, conflict monitoring as well as learning. These research aims at elaborating the basis for creating the neuroadaptive systems, which could be further implemented to brain-computer interfaces (BCI). Moreover, the neuronal indices are analyzed in relation to individual and contextual factors, such as emotional and motivational state, mental workload, fatigue, sleepiness, diurnal rhythm and chronotype.
The Department of Neuroergonomics is equipped with modern scientific facilities, i.e. the dense array EEG lab, Eye Tracking lab and IBM lab. It is also collaborating with the Neurology Department of Malopolska Centre of Biotechnology, which will be equipped with 3T MRI scanner. The research team has experience and further plans for scientific projects implementing simultaneous oculography with dense EEG and fMRI techniques. For those interested in virtual tour through the Campus of the 600th Anniversary of the Jagiellonian University Revival click here.
The Department of Neuroergonomics collaborates with various domestic and foreign institutions:
Department of Biophysics, Jagiellonian University, Krakow, Poland
Collegium Medicum of Jagiellonian University: Chair of Radiology, Krakow, Poland
Mark Kac Complex Systems Research Centre, Faculty of Physics, Astronomy and Applied Computer Science, Jagiellonian University, Krakow, Poland
European Games Academy, Krakow, Poland
Institute of Biocybernetics and Biomedical Engineering, Polish Academy of Sciences, Poland
Department of Industrial Engineering and Management Systems, University of Central Florida, Orlando, USA
Dipartimento di Medicina del Lavoro, Università degli Studi di Milano, Italy
Unité d'Ergonomie, Université Pierre et Marie Curie, Paris, France
Laboratoire d'Anthropologie Appliquée (LAA) Ergonomie, Comportement et Interactions, Université Paris Descartes, Paris, France